Vertical Herb Garden
I'm planning a fairly extensive productive garden. Mainly because we have so much space. I'll have to remember to only grow what we eat or want to try and eat as we really do have a lot of space.
We'll be starting out in the courtyard. Mainly because that area has the most likely chance of us using it and visiting it on a regular basis. The front yard I don't even want to think about at this stage as there are so many things we need to do there to make it useful. But maybe that won't be as far off as I think as we'll have to get it sorted for the driveway...
Vertical Herb Garden
I'll be installing a mini vertical garden for herbs and often used items in the courtyard. This is unlikely to be aquaponic driven as I want to have it in the courtyard as opposed to on the northern wall. See the below diagram:
I have a number of options for the mini vertical garden. I'm leaning towards 1 or 2 in the diagram. but it will be copping the western sun. But we don't really get western sun as we have a lot of trees on the western side helping us out. It's also be next to the BBQ. Kinda handy I think!
I could put the garden on the northern facing wall (3) but I suspect I'd be annoyed as I can't see it from the kitchen. The other option is 4 which is east facing. It's a viable option but is on the opposite wall to the BBQ. So probably leaning towards positions 1 or 2.
The herb garden here will be a simple one probably using IKEA Fintorp wall organiser. I may not even drill holes in them. We'll see!
The types of herbs I plan to grow are:
basil (normal style), parsley (continental), basil (thai), mint, chives, scallions / spring onions, coriander... basically herbs I may want a little bit of for cooking.
The other types of plans will either go in the big aquaponics wall which will be on the northern wall - marked as 5 on the plan above and cover the veges etc. There will also be a garden bed in the courtyard for other plants such as chillis. Although that may need a bit more sun so may need to think about that further where it goes. Maybe I will keep a pot of it on the vertical wall too... hmm...
This was the courtyard garden design:
Aquaponics and Vertical Garden Inspirations
For the pond I really having something that we can look at visually, be productive and provide another purpose - seating. Oh and it can help also with noise and create a lovely sound and mask unwanted noises (like road noises etc).
Here's an inspirational pond design with instructions in the link:
http://aquagardening.com.au/pond-liner-installation-aqua-gardening/
I love the wide board for sitting on. The site has a great set of instructions on how this got put together. Seems fairly easy to be honest! Just needs good pond liner really :)
This is my all time favourite vertical garden aquaponics design picture: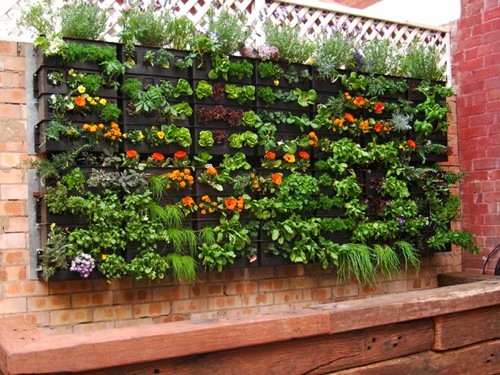 I think it's the lushness and the chunky sleeper timbers to form up the pond :)
But I do like the idea of white pots. Haven't found much in the way of those with the commercially available vertical garden kits. I may end up just doing gutters for my aquaponics gardens. Surely that should be better than plastic with reaction to the sun? And that way I can get my white vertical garden.
Here's some instructions on how to do a vertical gutter garden:
https://au.lifestyle.yahoo.com/better-homes-gardens/gardening/h/20305528/how-to-build-a-gutter-garden/
Not sure why they sprayed it pink!
Will has made me some lovely PVC pipes for previous versions of aquaponics systems so we may try and incorporate those too. We've done towers as well as horizontal pipes for strawberries.